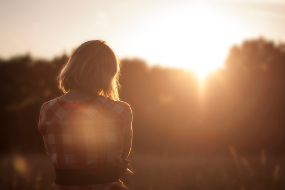 Grief Recovery
In June 2015 Erin became a grief recovery specialist® through training at the Grief Recovery Institute®. She provides both individual and group grief therapy sessions in the Sioux Falls and Brandon areas. Below is a description of grief as well as different options for healing available through Agapé Counseling Center. Please understand that grief is experienced by everyone at one point or another in our lives. If you have experienced a loss you have experienced grief.
What is Grief~
Our society tends to define "grief" narrowly. The word is mentioned most often in relation to the death of a loved one or a friend. It is also acceptable to grieve after a divorce or the loss of a relationship. These are big events that cause much pain, and everyone understands the impact that they have. But what about the less acknowledged losses that are personal to us, that no one else may even know about? What about the hurts inflicted (either once or over the course of time) by school yard bullies, an emotionally absent parent or a friend that no longer talks to us? What about a dream that was taken away by a misguided parent, a move to another state or the death of a pet when we were young? We all have experienced many hurts and losses throughout our life, and our society's message is to just move on. Moving on can't occur until the stored grief is addressed and resolved and/or completed, thereby changing our "relationship to" it. Grief is a normal and natural human reaction to a change in circumstances or expectations that deny the heart's longing in a specific way. Grief is wanting something to be different, better, or more. It is processed in the heart, not in the head.
The Problem~
While grief is normal and natural, most of the information passed on within our society about dealing with grief is not normal, natural, or helpful. Grief is the emotional response to loss, but most of the information we have learned about dealing with loss is intellectual. The majority of incorrect ideas about dealing with loss can be summed up in six myths which are so common that nearly everyone recognizes them. Most people have never questioned whether or not they are valid. Because our society tends to sweep grief under the carpet, we store a lifetime of losses in our bodies and our psyches. Then when we experience a loss sanctioned by society (a death or divorce), the emotion from all of the other unresolved grief can come spilling out. We experience intense feelings from both the immediate loss and our past losses.....and we still don't know what to do with it.
The Myths~
The six myths include: "time heals all wounds", "grieve alone", "be strong", "don't feel bad", "replace the loss", and "keep busy". Just looking at the myth that "time heals" creates the idea that a person merely has to wait and they will eventually feel better. We know that some people have waited for many years and still didn't feel better, but rather the pain compounded and restricted their lives in many ways.
The Solution~
Recovery from loss is accomplished by discovering and completing all of the undelivered communications that accrue in relationships. We are all advised to "Let Go" and "Move On" after losses of all kinds. Most of us would do that if we knew how. Completion of pain caused by loss is what allows us to "Let Go" and "Move On." It is almost impossible to "Move On" without first taking a series of actions that lead to completion. Before taking the actions to complete, it is important to look at, and often dismiss, some of the ideas for myths that we have tied to use with loss, but which are not working.
The Grief Recovery Method® Outreach Program provides the correct action choices that help people "Move Beyond" the pain caused by loss. It is an 8-12 week program which creates a safe environment in which to look at old beliefs about dealing with loss; to look at what losses have affected your life; and to take new actions which lead to completion of the pain attached to those losses. Grief recovery focuses on the resolution of relationships and events that have caused us pain. It provides specific processes and tools that can be used to resolve any past, present and future losses. It leads to completion and transformation. It requires honesty and a willingness on our part to work with the relationships and events in our past that hold us back and keep us from living our lives fully in the present.
When we look at all of the losses in our lifetime, we are able to identify patterns that repeat themselves and have become the major issues with which we struggle. When a similar event triggers a memory of a past unresolved grief, we react automatically based on our unconscious feelings about the original event. Sometimes, we even overreact to the current trigger because there is so much stored emotion of which we are unaware. Grief recovery can teach us to recognize when and why we are reacting and to choose to respond in a more appropriate way, instead.
Despite what we are taught by society, time alone does not remove the grief that we all hold. Instead, what is needed is a way to transform grief by changing our relationship to the people and events that still cause pain. Grief is not transformed until we realize what we ourselves can do. The Grief Recovery Workshop provides tools to assist in this process - tools that can help heal both past and future grief. We cannot change the events of the past or eliminate the sadness associated with those events, but we can work with them, so that they are no longer debilitating or informing our behaviors and thoughts in a way that does not serve us.
Individual Grief Counseling using the Grief Recovery Method®
The Grief Recovery Handbook – 20th Anniversary Expanded Edition – is used as the text for this program. Since our concern is for long-term success, not speed, I will lead and follow at your individual pace. You will be asked to commit to a weekly schedule and to complete a weekly homework assignment, so you can benefit from the work you are about to undertake. You will also be asked to commit to the kind of emotional honesty it takes to make this process successful for you.
Small Group Grief Recovery Method® Outreach Program
Small group counseling is an 8 week series involving the Grief Recovery® Outreach Program. It is a small group forum of 8- 12 people and provides a safe environment for participants to take the actions of The Grief Recovery Method®. Participants examine their existing beliefs about dealing with loss, what losses have affected their life, and take new actions that can lead them to completion of the pain attached to those losses. As a result, the participants find that they are able to discover and complete what was left emotionally unfinished due to a death, a divorce, or any other major loss.
The Grief Recovery Method® is a powerful and dynamic experience and is the most sensible, accessible, and authentic plan available for recovery from loss. As your Certified Grief Recovery Specialist®, Erin Sanford will facilitate each group. The Outreach Program is neither a support group nor a drop-in program. It is an experiential, action-based course with homework assignments, involving a commitment to weekly attendance that is vital for maximum benefit in the healing process.
Grief Recovery Workshop
The Grief Recovery Workshop consists of several elements, all interwoven over the course of the three days. There are periods of lecture, much discussion and sharing, personal exercises to identify past grief and to illustrate the tools taught for grief recovery, and finally, a symbolic piece of work that takes the healing to a deeper level.
Participants need to commit to all three days and to doing some homework each evening. The personal homework is then used the following day to move through the teaching and healing process. The workshop follows a planned progression over the three days, and each participant receives not only specialized attention over the course of the workshop, but also the tools necessary to continue working with past and future grief.
The workshops are deep, personal and healing for all involved. Participants often experience a new level of understanding and compassion -- for themselves, for others and for humankind.
How do I determine if I should participate in the Grief Recovery Method® Outreach Group, 3 day workshop, or the individual Grief Recovery Method® counseling?
Determining which type of counseling you should participate in is entirely up to you and what you feel more comfortable with. Some people feel uncomfortable sharing their feelings and their experience of grief with others and prefer to engage in a private one on one environment with their therapist. In this case, individual counseling would most likely be a more comfortable means of being emotionally honest to make the process more successful for them. Other people feel more comfortable sharing their grief and experience with others as they feel a connection with those who have experienced the depth of their own grief. The important thing to remember is that you are in an environment where you can be honest and follow through with your commitment.
If you are tired of thinking about your losses and are ready to take action regarding present or past losses, please contact me. If you are interested in information about individual sessions, a 3 day workshop, or the 8-10 week Grief Recovery Method® Outreach Program group in order to recover your energy and improve your quality of life, please call our office to get scheduled for our next group.
Contact Our Therapists & Counselors
Phone: 605-582-4722
Fax: 605-582-3197